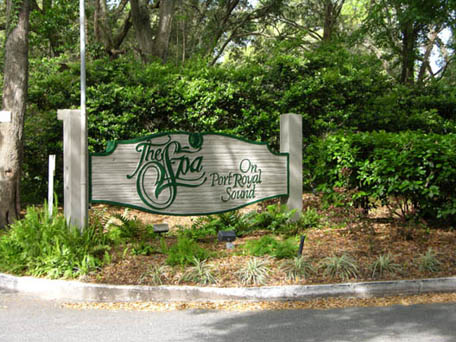 Soundings May 2012
Greeting from Hilton Head Island. We hope you had an easy winter and are having a pleasant spring. We also hope that you have a great summer season and we hope to see all of you enjoying the facilities at The Spa.
A Letter From President of the Board Of Directors
A Spring Message from the President of the HOA:
Patty and I just returned from an 8 day visit to the SPA, to find it the "Shangri-La" we love. The spring weather was delightful; the SPA facility is as clean and neat as it should be this time of year. (Thank You Michael and our Staff) As usual the community gathers at the pools and at our Hidden Beach Front where we enjoyed friendly conversation with our neighbors. I was glad to see the family barbecue pits in full use. Thank you to all who use and keep them neat and clean.
I was encouraged to find that all but (ONE) SPA owner / resident have complied with our Master Deed requirement to be keyed to our Master Key system. Thank you to all that have allowed us to make this safety requirement painless to implement.
I was happy to find out that many residents took advantage of the negotiated low pricing Michael arranged for the new shut off valves installed in their units. We are asking all home owners and renters to turn off the water to their unit if you are not planning to be home for longer than a few days. This is to minimize the damage that can occur from an empty unit pouring water for extended periods of time.
We are still asking all owners to look at their water heaters. If they are 10 years old and no longer on a manufacturer's warrantee, please replace them. Please remember that the damage from an old water tank that lets go due to rust through will be the responsibility of the home owner.
Please have your air conditioners serviced. This will save you energy. In addition please keep the area in the AC closet in your unit free from clutter that will block air from entering the unit. Change the filters regularly, dirty filters can cause your A/C unit to ice up, and insure the condensation drains are clear. During high humidity days you can dump 20 gallons of water from your A/C each day. That will cause a lot of water damage, and mold formation if the drains are clogged.
The swimming pools are now open. Please take a few moments to read the pool rules posted at each pool. The Board hopes you utilize and enjoy the pool facilities and use care and caution in doing so.
Patty and I hope that you and yours enjoy the rest of the spring and the summer season at the SPA on Port Royal Sound, or our "Shangri-La" as we prefer to think of it.
Frank Desiano
---
Plumbing Shut Off
If you would like water shut off valve installed in the front of your washer/dryer closet please contact the HOA Office and we will add you to the list for the next phase of installations. We have special pricing from a licensed plumber and we can give you the details of the program. We are also providing you with a check list of things you should do if you are going to leave your unit unoccupied for more than a couple of days. (See the last page of this newsletter)
Regime Payments
The regime fee is due on the first of the month and late fees will be added to payments received after the tenth of the month. No exceptions. Please check your payment booklet and make sure you are paying the correct amount. If you are having problems paying your fees please contact the HOA Office. If we have no contact with you and your account is sent to our attorneys for collection you will be responsible for any and all legal fees. Every homeowner will receive a quarterly statement from the HOA Office even if you have a zero balance.
Security
Please remember that The Spa is a gated community. As such if you want someone to visit your unit, whether it is a contractor, a day visitor, a short term guest or anyone at all you must call or email Security for a pass. No one is admitted to the property without prior authorization. If you want someone to enter your unit, for example a contractor or a cleaning service, you must provide the HOA Office with a spare key and you must specifically authorize by phone or email the release of that key. We will not give a key out to anyone without prior authorization. No exceptions.
Please report violations of the rules and regulations/noise complaints/etc. to Security as they occur. Telling the HOA Office about an infraction hat occurred last week is not as helpful as reporting it to Security as it is happening. You will remain anonymous and we may be able to deal with an issue before it becomes a major problem.
Leases
For those of you who lease your units on a long term basis, we would like to remind you to inform your tenants of the $125.00 deposit fee which is payable to the HOA upon registration. This cost covers parking stickers and picture ID's. $25.00 of this fee is refundable when the tenant's lease is up. Very often tenants come into the office and are unaware of this fee.
If you lease your unit either short term or long term please leave the fitness and pool keys in the unit. Although keys are free to Homeowners, we will charge your tenants if you do not leave your keys. Also you will be charged to replace lost or stolen keys.
One of our Homeowners was kind enough to provide us a copy of a welcome letter which lists the rules and regulations and various do's and don'ts that short term guest should be aware of when they come to vacation at The Spa. We can provide you with a copy of this information upon request.
Tennis Court Key and Roof Access
The key to the tennis courts is at the Security Gate. If you or your guests wish to use it please tell the Guard and they will ask you to sign the log sheet and give you the key. Also, if you have an air conditioning repair person on the property and they need to get access to the roof they must get the key from the Security Gate. Maintenance will not open the roof hatch. The key must be signed out by the AC repair tech. We track these logs to determine which company was on the roof and at what time. If you need to install a new unit on the roof you may rent The Spa's lift for $275.00. This is an approximate savings of $300.00 over a crane rental.
Maintenance and Office Staff
If you have a request for maintenance please come in or call the HOA Office. We will fill out a work order to schedule a solution. It is counterproductive to ask a member of the maintenance staff to do something that the HOA Office does not schedule. We keep records of maintenance done on the property and have a small staff which must keep on a schedule in order to be effective.
When you call the office with questions please ask the person who answers the phone to help you. Many times people ask for specific people such as the General Manager and wait for return calls later in the day only to find out that the person who originally answered the phone could have given them the answer they needed immediately. Our staff is trained to answer any question that you may have.
Renovations
If you are planning renovate your unit please contact the HOA Office. You can obtain a form (via email or in person) from the HOA Office for this purpose. The request will be reviewed by the General Manager and if the changes are in compliance with the Master Deed the request will be approved. If you have questions about this process call the HOA Office and make an appointment with the General Manager to discuss the project. Michael was a General Contractor for many years and can answer almost any questions you might have.
Owners In Phase II
For those of you who own units in Phase II (Alligator, Beachwalk, Coastal and Dolphin), we have recently conducted an inspection of the fire prevention sprinkler heads in your units. If the heads are rusted The Spa will be replacing them. If the heads are painted, which is a violation of fire code, you will be billed for the replacement. We will be contacting you individually about the status of the sprinkler heads in your unit. If you do not hear from us your sprinkler heads are in compliance with the code and will not be replaced.
Smoking
If you or your guests smoke please remember to use an ashtray. We have had several instances in which carelessly discarded cigarette butts have caused fires on the property. Use an ashtray. If you do, the life and property you save may be your own. If you don't you are subject to fines and, in the event of a fire, possible prosecution. Be smart. Be safe.
Have a Great Summer!!!
See attached unit checklist.
*****Unit Checklist (Please Save)*****
When leaving for more than one week please do the following:
1. Please turn off water at main water supply.
2. In the summer please set the AC for no higher than 78 degrees to prevent mold and mildew.
3. In the winter please set the heat for no lower than 50 degrees to prevent pipes from freezing.
4. Unplug electronics to prevent damage cause by lightning strikes and power surges.
5. Turn off breaker to the water heater.
Thank you for taking the time to read and implementing all that apply.
---
Our Contact Information:
BOARD MEMBERS
Frank Desiano, President
John Van Horn, Vice President
Tom Jostworth, Treasurer
Julie Pinkham, Secretary
Shelby Baker, Assistant Treasurer
Patience Rush, Assistant Secretary
Bob Lynch, Member at Large
HOA
HOA Office (843) 689-7500
HOA Office Fax (843) 681-2017
BOD Email spa2011bod@yahoo.com
WordPress Site http://thespaonportroyalsound.com
HOA Web Site http://thespaonportroyalsound.net
FACEBOOK ID: Spa On Port RoyalSound.
Security
Security Office (843) 681-7500
Security Email spasecurity@hargray.com
Our Office Staff:
Michael Vassallo General Manager
Naryi Escudero Office Manager
Hope Wayda Administrative Assistant
Our Maintenance Staff:
Shine Anderson Maintenance Supervisor
Jerry Englum Maintenance Tech
Juan Lopez Maintenance Tech
Calvin Gadson Housekeeping
---
---