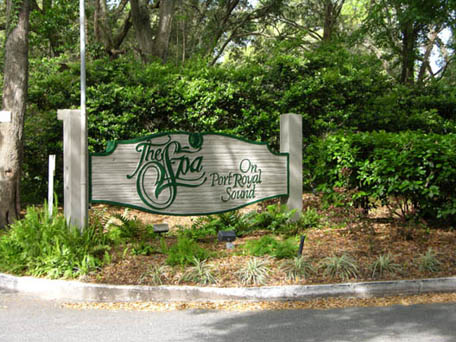 *
Soundings June 2010
Greetings from Hilton Head. We hope you are staying cool during the hot weather we are having.
This is storm season; please remember to put a surge protector on all of your electronics.
We have had numerous instances of people losing TV's and other electronic equipment due to lightning strikes.
If you have problems with your cable please remember to give your building letter and unit number when you call Time
Warner Cable. If you give them the proper information they may be able to fix your system remotely rather than you having
to wait for a service call.
All of our pools are open between 8:00am and 10:00pm. The fitness room is open during the same hours.
The shuffleboard court is open between 8:00am and dark. The equipment is in the white fiberglass box next to the court.
Our charcoal grills are open to everyone both at the waterfront near H Building and at the playground across from D Building.
Please limit your time on the grills in consideration of others who may be waiting to use them.
There is no grilling permitted on the back porch of any unit.
This is the LAW for any multi-family structure.
If you have visitors please call security so that they can be given a pass.
If you are getting a delivery, having a contractor work at your unit, or even getting a pizza delivered you must call in a pass.
No one is permitted on the property without a pass.
When your guest arrives they will be asked to show a valid driver's license before they are given their pass.
If they do not have a valid driver's license they will not be permitted to drive on the property.
All persons driving on Spa Grounds must have a valid driver's license.
All visitors are required to park in visitor parking. These areas are clearly marked along the fences.
If you wish to have someone get the key to your unit, you must call the HOA Office and authorize the release of your key.
We will not release a key to any unit without prior authorization from the owner of the unit. No exceptions.
Taxis are permitted on the property but you must call in a pass for them. If you do not take the time to call in a pass
they will be refused entry.
We are in the midst of replacing all the fire alarm panels on our buildings. We are doing some unexpected rewiring but will
end up with a system that will last us for another 15 to 20 years. During this project we may experience frequent activation of
the audible warning systems.
We apologize for any inconvenience.
***REMINDER TO ALL:
THE SPA IS A NO PET COMMUNITY. REMIND YOUR QUESTS AS THERE ARE NO EXCEPTIONS***
HOA Office Will Be Closing @ 3pm On Friday July 2, 2010
Will Re-Open On Tuesday July 6
Master Deed & Ammendments Page Added-click here
"It's turtle season again!!
By law the lights on the pier, the observation deck, and the building lights
facing Port Royal Sound will be turned off until October 1, 2010.
Thank you for your understanding."
Our Contact Information:
HOA Office-- 843-689-7500
HOA Office Fax-- 843-681-2017
Security Office--843-681-7500
HOA Email--hoaspa@hargray.com
Web Address--http://www.thespaonportroyalsound.net
Our Staff:
Michael Vassallo General Manager
Cheryl Ramey Office Manager
Naryi Escudero Administrative Assistant
Shine Anderson Maintenance Supervisor
Jerry Englum Maintenance Tech
Juan Lopez Maintenance Tech
Calvin Gadson Housekeeping
---
SOUNDINGS May 2010
With the Memorial Day weekend upon us we hope you have a safe and wonderful time wherever you may be. The weather here is great even though we have had a few too many thunderstorms lately. Please remember that the HOA Office is closed on Monday May 31.
We are happy to announce that we have finished the renovation of our indoor pool and hot tub. We have completely re-plastered both and redone the pool deck. Both are open and they both look great. You can check out some pictures on the web site.
You have received a list of potential new names from the HOA Office. Please choose three of these names in order of preference and send via mail or email back to the office by July 1, 2010. Once we tabulate the votes we will be in touch with the next step in the process.
We will be moving visitor and guest passes from the HOA Office to the Security Office in the coming weeks. We will give everyone plenty of notice before we make this change. Our goal is to have Security handle all of our paper passes. The HOA Office will still issue all parking stickers and ID cards.
Please remember that in the event of an emergency the walkways in front of your unit become emergency exits. Please make sure that your screen door closes properly and that you do not leave anything on the floor outside your unit that might be a trip hazard.
The Spa has changed its policy regarding Taxis. In the past, for various reasons, we have not allowed Taxis on to the property. We have now reversed this position. We will allow taxis to drop off and pick up at your door. However, you must call in a pass for the cab company, and you must be ready when the Cab shows up. If the Taxi driver blows the horn it may result in that Cab Company being banned from the property. With a little cooperation we can make this a convenience that our residents can count on well into the future. It will also make for a much drier experience on a rainy day.
We hope you enjoy the new umbrellas that we placed around the pool areas. We have ordered some heavier tables for the Ocean Pool so that the new umbrellas can't tip over the tables. The shuffleboard court has been redone and we are in possession of new equipment so that everyone can enjoy it. We have ordered a locker which will be placed next to the court between the new benches. The key will be at the security gate and can be signed out in the same way as the key to the tennis courts. We hope you enjoy it!
For those who rent your units on a short term basis, or if you have guests using your unit please remember to leave the guest ID's that you received from the HOA Office in your unit for your guests. Also remember to leave your indoor pool key and your fitness room key.
Our Contact Information:
HOA Office- 843-689-7500
HOA Office Fax -843-681-2017
Security Office -843-681-7500
HOA Email -hoaspa@Hargray.com
HOA Web Site -http://www.thespaonportroyalsound.net
---
SOUNDINGS APRIL 2010
It's been a beautiful spring here in Hilton Head and we hope all of you can take some time to visit and enjoy the beautiful weather. Our indoor pool renovation has begun. We will be plastering both the pool and the hot tub as well as working on the skylights above the pool. We will also paint the decking around the pool. We are on schedule for finishing in mid May.
We have received you name change suggestions and you will be receiving a letter in the next week or so from Board President Cynthia Macalister which will contain a list of all the suggestions. Please read this letter carefully as it will explain the next step we will be taking in the effort to choose a new name.
For those of you who are concerned about proposed expansion of Hilton Head Airport you can get updates by checking with http://theislandpacket.com or by reading The Island Packet Newspaper which is available throughout Beaufort County. However you feel about this issue it is always helpful to stay informed.
We are in the process of reconfiguring our web site so if you get a chance check it out. We have updated pictures which show our beautiful new paint scheme, as well as updated contact information for the HOA Office, the Board of Directors and the General Manager. Hopefully the new site is a little easier to navigate and a little more informative.
Here are a few reminders about rules and regulations:
1. Please remember that grilling on the back porches or walkways is strictly prohibited. It is not only a violation of Spa rules but it is against the fire code in Hilton Head. We have a wooden structure and a small spark could turn into a major tragedy. We have grills located at the waterfront near H Building and at the playground near D Building for your convenience.
2. The Spa has a NO Pet Policy. You may not bring pets onto the property for any reason. No guests or visitors may bring pets onto the property for any reason, even for a few minutes. If you see violations please call Security immediately.
3. We do not allow you to hang towels or other laundry over the railings in front or behind your unit.
4. Because of Fire Department Regulations we do not allow anything to be stored in the walkways in front of the units. This includes shoes, beach equipment, or even welcome mats. Please remember that in the event of an emergency the walkways become emergency exits and anything that might impede a quick exit or the response of an emergency worker could be the difference between a happy ending and a very sad one. We appreciate your cooperation.
Here is something to think about: It's easy to forget that those close by can hear slamming doors, loud conversation, high volume on television and stereos, honking horns and heavy feet. Please accept this gentle reminder to live as quietly as you can. Everyone sincerely appreciates your effort. Thank you.
The Soundings is your newsletter. Feel free to drop us an email or a letter if you would like to contribute something in writing. You can also get up to date information on important issues when they come up by visiting our new bulletin board located near the mail building.
Don't forget to send us your email address. We can save a substantial amount of postage and time if we can communicate with you via email or via the web site. Just drop us a note at hoaspa@hargray.com and we will add your email address to our files.
For those of you who rent their units long term (longer than 60 days), please remember. . There can be no more than four people (including children) in a two bedroom unit and no more than two people (including children) in a one bedroom unit.
If you rent a storage unit remember that The Spa is not responsible for articles that may be lost or stolen. Be careful with your keys and talk to us about having your locks changed when renting a unit. If you haven't paid your storage fees you will be receiving an invoice from the HOA Office. If your fees remain unpaid we will dispose of your possessions and change the locks on the unit.
Please remember that all locks must be keyed to a Spa master key. This is imperative because in the event of a major leak or other problem we may have to enter your unit in order to make repairs or to turn off your water. If we can not access your unit we will have to break in which will cause damage (which will be repaired at owner's expense). In the case of catastrophic water leak 3 minutes could be the difference between minor damage and the total flooding of three or four units. If you do not have your unit or your storage unit keyed to our master contact the HOA Office and we will give you the information that you need in order to comply.
In the near future we will be moving all passes to the Security Office. At present we issue all Guest Passes from the HOA Office and all Visitor Passes through the Security Office. In the coming weeks we will change this policy to allow Security to issue all passes for guests and visitors. We will also be establishing an email address for the Security Office which can be used to request passes
We need to work out the bugs before we put this system into place. We will be giving you plenty of notice before this change goes into effect.
Please remember that those who have visitor passes must park in visitor parking. Those who have guest passes may park in front of the buildings. For violations please call Security.
Because of the overcrowded situation in our bicycle storage areas we have a bicycle registration program. We issue a sticker, at no charge to all bicycle owners. In this way we are able to determine whether a stored bicycle is someone's property or just something that was left behind by tenants or owners who have already moved out. To register you bicycle please bring it to the HOA Office along with your Spa ID. If you do not have a Spa ID please stop into the HOA Office during normal business hours and we will be happy to accommodate you.
If you have maintenance issues please call the HOA Office to schedule repairs. If you let us know we can properly prioritize the repair schedule and also record what the problem was and when it was fixed for future reference. If you simply stop a maintenance person and ask them to fix something immediately you may be preventing them from adequately responding to a higher priority repair.
The pool hours are 8:00am to 10:00pm.
The fitness room is open between 8:00am and 10:00pm.
The tennis courts are open from 8:00am until dusk. The key to the tennis courts is available at the security office during operating hours.
The Shuffleboard court will be open in the next ten days. The hours are 8:00am until dusk and the key for the equipment locker will be available at the security Office during operating hours.
Our Contact Information:
HOA Office-- 843-689-7500
HOA Office Fax-- 843-681-2017
Security Office--843-681-7500
HOA Email--hoaspa@hargray.com
Web Address--http://www.thespaonportroyalsound.net
---
SOUNDINGS MARCH 2010