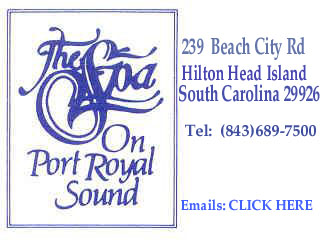 Marsh Tacky Horse Race Held On Spa Beach
Submitted By
Spa Owner Nancy Anderson-Unit 1201
SUBMITTED BY
Spa Owner John Van Horn -Unit 1311
IN ORDER TO KEEP THE SPA AS LOVELY AS IT IS, EVERYONE NEEDS TO HELP.

IF IN YOUR ACTIVIES, YOU SEE ANYTHING THAT NEEDS TO BE ADDRESSED,

NOTIFY THE GENERAL MANAGER OR HOMEOWNER'S ASSOCIATION

THEY ARE THERE TO HELP.

IF YOU HAVE A PHOTO THAT YOU WOULD LIKE TO SEE ON SITE, PLEASE EMAIL TO WEBMASTER LINK BELOW.
Copyright© 2007
Website Design By:
P.Desiano